Aramine's commitment to Social Responsibility has been omnipresent in the company's values ​​for many years, even before this topic became "trendy".
Since 1988, our founders and managers have been involved in humanitarian local works (Aix en Provence MECENAT, cercle de l'audace créative, Association ressource, Child sponsorship, child abuse, creche, etc.).
Aramine has always been committed to respecting the laws and regulations in force, to satisfy and protect our partners, our suppliers, our customers, our employees, our shareholders.
It is in this spirit that we subscribe to a Quality, Safety and Environment policy, respecting a set of fundamental values that we defend.
We are committed to:
• Ensure the exemplary quality of our products
• Meet the expectations of our customers
• Ensure the safety of our employees and our customers
• Provide a safe and pleasant working environment
• Develop strong partnerships with our suppliers and partners
• Reduce the environmental impacts of our activities
• Respect the laws and regulations in force
Each year since 2017, Aramine has reiterated its commitment to the ten principles of the United Nations Global Compact in the fields of human rights, labor, the environment and the fight against corruption.
ISO 26000
The success of a company depends on its human and societal commitment. The Group has developed a code of conduct for all employees of the company and brings together its CSR approach in an ISO 2600 manual.
ISO 9001 Certification 2015 version
The Group's strong growth ambitions compel us to continually reinvent ourselves in order to take the best of all the changes we are facing: technological evolution, changing attitudes and expectations of teams, partners, customers, evolution of the market…. Everything encourages us to continuously improve ourselves and remain a leader in our market, while maintaining our standards of quality and competitiveness. We are confident in the positive effects of ISO 9001 certification, in particular to guarantee our commitments in our quality management system, our commitments to our customers, our teams and our stakeholders.
Obtaining this certification allows us to meet our ambitions: be the first choice of our customers and the best alternative to the other large groups present on the market.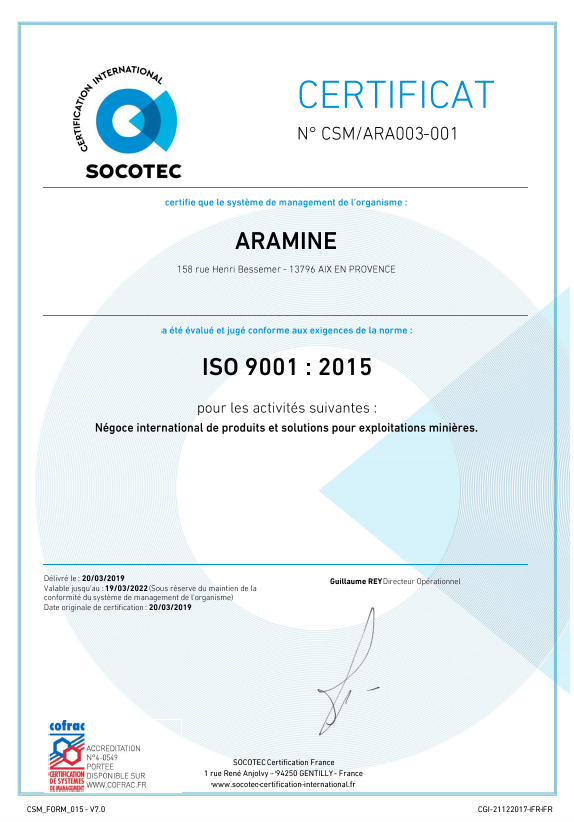 Commitment to a sustainable development approach
Aramine is always seeking to reduce its environmental impact and has become the first manufacturer of underground mining machines to develop a range incorporating electric propulsion engine technology.
More broadly, Aramine is developing a range of mining machines for underground mines in narrow vein galleries and thus favoring a market more environmentally friendly. The narrow vein galleries aim to minimize the extraction volumes around the identified veins. Its "Narrow Vein" range therefore supports the development of mining in extra small galleries.
Because the Safety and well-being of our employees is at the heart of our concerns, Aramine invests in the protection and training of its employees and the quality of life at work. This approach is supported by our local and social partners.