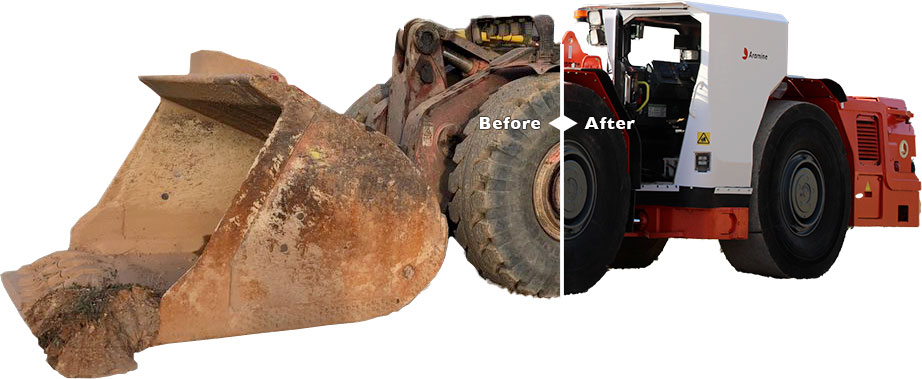 Thanks to our know-how and experiences, Aramine offers used equipment fully remanufactured following strict quality criteria and respecting the manufacturer's standards and the use of original spare parts.
For 20 years, ARAMINE's remanufactured products have kept their promises. We only sell premium brands and our process is continuously improving. Whatever your needs are, we adapt our machines to your expectations. Our dedicated technicians are trained to rebuild loading, drilling, and hauling equipment following a systematic process and supported by stringent environmental and safety standards. Our standardized approach ensures the best possible quality.
DIFFERENT SOLUTIONS FITTING TO YOUR NEEDS
REMANUFACTURE PROCESS BASED ON A HIGH-QUALITY CHART
Performed according to original manufacturer specifications, including the latest engineering design and ensuring latest performance upgrades
Using Exclusive Genuine Spare Parts ISO compliance
Tested and controlled on a test track in order to ensure same performances as manufacturer specifications(tractive efforts, speed, motion times, cycles, capacity, hydraulic pressure…)
Full warranty (12 months on frame & 6 months on powertrain)
A real standard of quality ensuring regularity for many years.
The Aramine technical team supports you for the final commissioning process at the mine site.
Our equipment is provided with a full startup and training on the field with highly trained service engineers.
40 years of know-how in underground mining equipment lead to provide high-quality level products. Our underground experts support you to analyze your specific requirement.
Aftermarket worldwide Supply.
THE ONLY ALTERNATIVE GENUINE SOURCE TO SERVICE YOUR EQUIPMENT
A simple order process and a large spare parts availability guarantee fast delivery.