Underground Mining Machines
ARAMINE has designed an innovative and unique range of small and medium section machines.
High productivity, high reliability, great comfort, safety, ARAMINE machines are designed by its qualified engineers for the highest certification. Its multi-lingual technical teams ensure the final commissioning on the mine site.
Several options are available : fire extinguisher, radio remote control…
ARAMINE offers services to enable our customers to optimize their productivity and reduce their maintenance costs : new technics training on-site or at our technical center, technical assistant contracts, maintenance contracts, repair…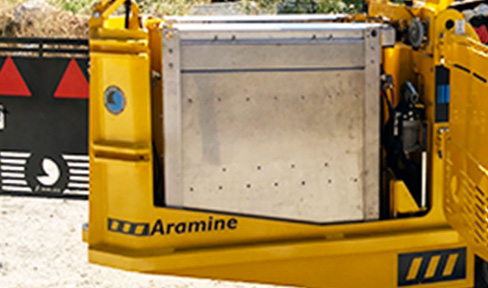 Innovation is an essential element for ARAMINE. To develop and diversify, the company is always ready to integrate new technologies and redesign its machines to adapt to global changes.
ARAMINE has created a real revolution for its clients in narrow vein mining, which requires advanced technologies.
In a constant spirit of innovation and modernization, its engineering team has designed a new range of environmentally friendly machines.
This new line of equipment allow their clients to take its business to the next level and maintain peak productivity while working in a healthier and safer environment.